Konstantin Vasyukevich, MD
59 East 79th Street
New York, NY 10075
Phone: (212) 380-3634
Monday, Friday: 9 a.m.–6 p.m.
Tuesday, Thursday: 10 a.m.–7 p.m.
Wednesday: 10 a.m.–6 p.m.

Facelift patients at Dr. Konstantin's Manhattan, NYC, practice undergo a procedure that has been refined by surgeons over the course of almost a century. The history of facelifts began nearly 100 years ago when Jack Joseph, a German surgeon, performed the first excision of sagging facial skin on a Polish noble. Over the years, this surgery continued to develop and the technique was refined, and facelifts became the gold standard of facial rejuvenation.
A facelift can make you look 10 to 15 years younger by reducing skin laxity and restoring contour to the cheeks and jawline. When combined with a neck lift, the procedure creates a beautiful, more youthful silhouette. The remarkable rejuvenating effects of a facelift are achieved by both pulling back sagging skin and removing the excess tissue.
The Inevitable Incision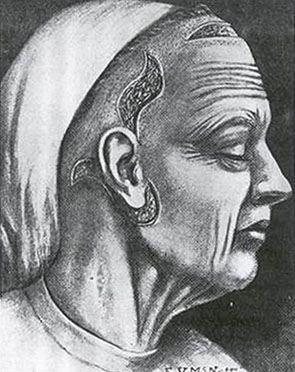 While the success of the facelift changed modern day facial rejuvenation procedures, it also created its most daunting problem: in order to remove excess skin, a long incision was necessary. Once an incision was made, the resulting scar gave away the fact that a facelift had been done.
Perfecting these incisions has been an arduous endeavor pursued by generations of plastic surgeons. Over the years, various techniques have been tried and abandoned in favor of better ones in the ongoing search for the most inconspicuous incisions. Below are some examples of early facelift techniques.
Perfecting Incisions
As surgeons developed more advanced methods of facial rejuvenation and gained more experience with incision placement, it became apparent that the best way to conceal incisions was to place them into the natural creases around the ear and to position them along or inside the natural hairline.
These types of incision placements resulted in the soundest cosmetic outcomes and allowed surgeons to remove enough skin without creating noticeable scars. The appearance of incisions was further improved with the introduction of the superficial muscular aponeurotic system facelift. Known as the SMAS lift, this technique reduced tension on the skin, significantly improved skin healing, and minimized the appearance of scars.
Our Patients Say It Best
Amazing doctor and so happy with his work. Great staff, too. I highly recommend Dr. Konstantin
I love dr.Kostantin . He is amazing with his work, and he is very honest. He won't do a procedure if...
Love his emphasis on achieving natural-looking results From the very first consultation through and...
Age 70, neck & facelift & blepharoplasty - delighted with refreshed face & eyes When I retired at 70,...
With me every step of the way until I was completely healed Dr. K is a true artist with a scalpel. I...
Beautiful results 1 year post-op neck lift! Very natural He was professional and did a beautiful job...
Read More Featured Reviews
The Modern Incision
Today, a typical facelift incision begins at a hair tuft and curves toward the ear along the hairline so it can be hidden or camouflaged by the patient's hair. The incision continues around the ear and is placed in its natural groove along the edge of the cartilage (tragus). It continues around the ear lobe and into the natural crease toward the very bottom of the ear, then reverses upward along the back surface of the ear. It extends into the hairline and ends behind the ear. This method results in a more aesthetically pleasing result with less visible scarring.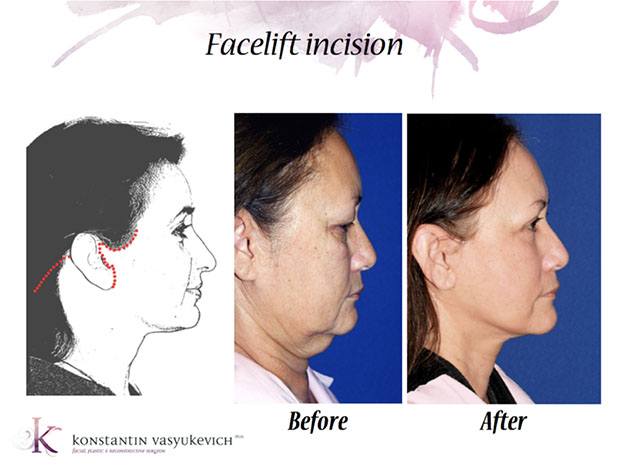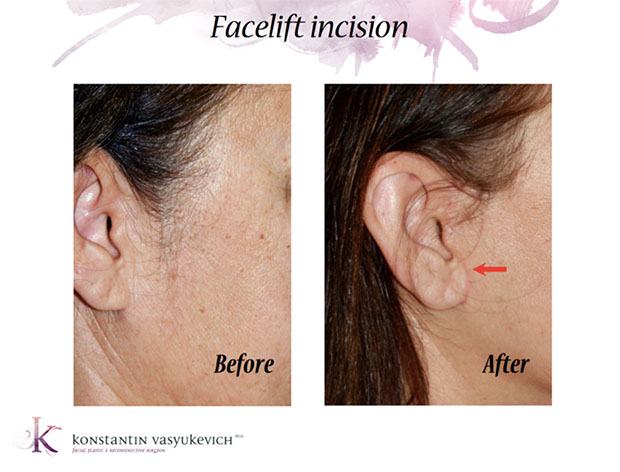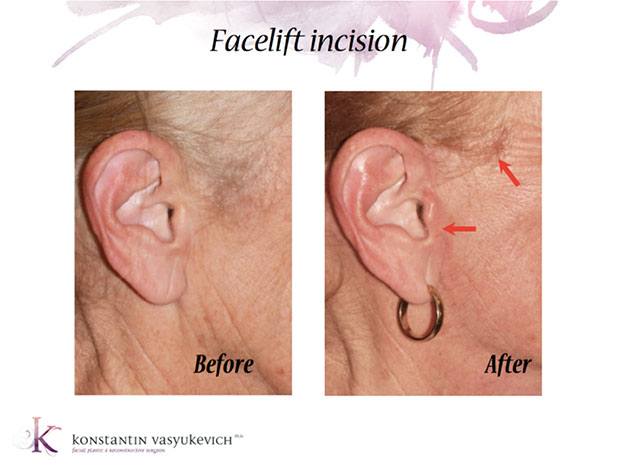 In addition to the perfection of this technique, various methods are also used to expedite healing and minimize scar formation. Diligent wound care and scar cream facilitates the healing process, and if needed, laser treatments can further improve the appearance of scars.
If you are searching for the best facial plastic surgeon in NYC to answer your questions about facelift surgery, please contact us online for a consultation with specialist Dr. Konstantin or call (212) 380-3634 to speak to a member of our team.