All of us who want to maintain a vibrant and youthful appearance know that we have to take great care of our skin and maintain a healthy lifestyle. There are some cardinal rules we all know to follow to look our best – staying hydrated, eating healthy, wearing sunscreen, using quality skin care products, and taking advantage of preventative cosmetic treatments such as BOTOX® Cosmetic and dermal fillers, to name a few. However, as a facial plastic surgeon, I inform my NYC patients there is another significant factor that can make a world of a difference in reducing or even preventing many signs of facial aging – sleeping in a proper position.
Few people know that the very act of lying in a horizontal position for an extended period of time can cause facial swelling in the morning. This swelling is usually not very significant and most of it will disappear after an hour or two of being upright. However, over the period of years and decades this cyclical micro swelling will cause stretching of the facial ligaments resulting in sagging of facial tissue and creating an aged appearance.
Which Sleeping Positions Cause Signs of Aging?
Certain sleep positions can exacerbate this kind of swelling and might be one of the causes of premature facial aging. Sleeping on your stomach, for example, can create a visible accumulation of fluid under the eyes creating a puffy appearance in the morning. Other sleeping positions carry less risk of swelling, but might contribute to the aging process in a different way. Sleeping on the side is one of the most common positions. It results in much less facial swelling than sleeping on the stomach, but continues rubbing of facial skin against the pillow creates shearing forces that contribute to stretching of the facial ligaments. Using pillowcases made of smooth fabric such as silk or satin helps to mitigate this stretching effect, but unfortunately cannot completely eliminate it.
What Is the Best Sleeping Position to Prevent Facial Aging?
So, what position one should sleep in? The best sleeping position and one that Dr. Konstantin highly recommends, especially to his patients post-procedure is sleeping on the back. "Regardless of whether you've just undergone surgery or not, sleeping on your back is the best sleep position for anti-aging. It avoids the back-and-forth rubbing exchange associated with side and face-down sleeping and mitigates puffiness and fluid buildup in the face," Dr. Konstantin tells us in Les Nouvelles Esthetiques & Spa magazine.
Please see full article bellow: "Sleeping Beauty: How to Reduce Facial Aging with Proper Sleep Positions", Les Nouvelles Esthetiques & Spa magazine.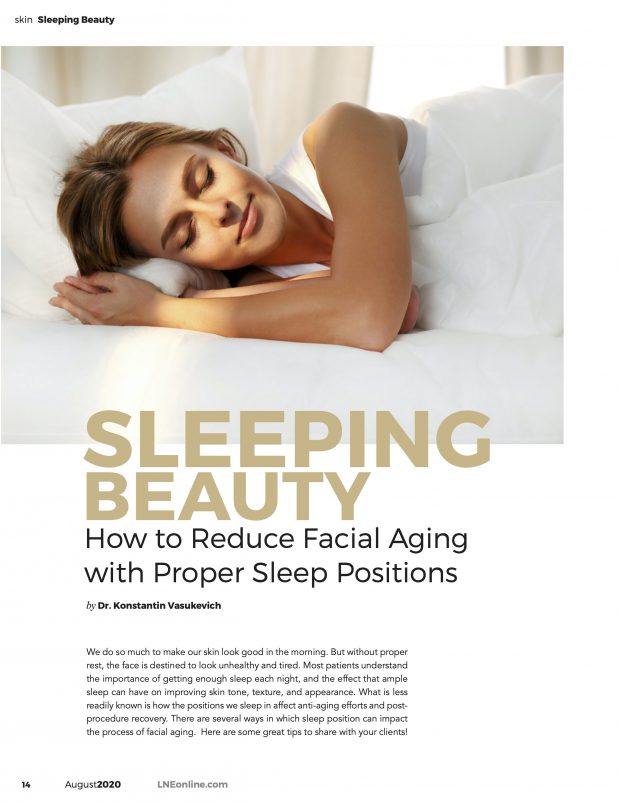 To see examples of the results you can expect after various anti-aging procedures, please visit our before-and-after photo gallery.
If you would like to learn more about anti-aging from a facial plastic surgeon in NYC, please contact us online or call (212) 380-3634.