Blepharoplasty (or eyelid surgery) is one of the most sought-after cosmetic procedures for thousands of people looking to improve their facial appearance. And, its popularity is well-deserved. From lifting drooping eyelids, to getting rid of wrinkles and lines to removing under-eye bags and excess skin, this type of surgery can achieve a truly profound rejuvenation. Effectively making the eyes more youthful, this procedure requires the surgeon to make small, discreet incisions, with minimal downtime, and makes it ideal for people who want to refresh their look, but don't have the luxury of taking a lot of time off. If you're considering blepharoplasty, you can also feel confident that for most people, the results can last 10 to 15 years or even a lifetime.
However, if you're wondering, are there ever occasions where you'll need to have the procedure done a second time? And, if there are ways to help extend the results of your procedure? Here, we will explore the answers to both of these questions.
Candidates For A Secondary Blepharoplasty
Although, one of the most appealing elements of blepharoplasty is its ability to produce long-lasting, if not lifetime results, there are a few instances when a secondary or revision eyelid surgery is necessary. We'll take a look at them below:
Unsatisfactory aesthetic outcome: Even after doing a lot of research, choosing a highly qualified, experienced surgeon, and following post-op instructions, unfortunately there are still times when the initial blepharoplasty procedure doesn't achieve the desired aesthetic results. While uncommon, complications or asymmetry can also occur after this procedure. In such cases, a repeat blepharoplasty may be necessary to address the complications, correct the asymmetry, or improve the overall outcome.
As with any revisionary aesthetic procedure, a certain amount of time must pass after the first surgery before the second surgery can be safely performed. When it comes to blepharoplasty, it is usually recommended to wait at least 6 months between the primary and secondary procedures. This allows the eyelids to fully heal, ensures it's safe to proceed with the secondary procedure, and reduces the risk of complications or unfavorable results.
Aging changes: It's important to keep in mind, while having an eye rejuvenation procedure can certainly improve the look of one's eyes and take years off one's appearance, it doesn't stop the aging process. Over time, the skin around the eyes may stretch or sag again, and under-eye fat deposits or "bags" can form. If these changes are significant and affect the appearance of the eyes, a repeat blepharoplasty may be considered to restore a more youthful and rejuvenated look.
Changes in vision: In some cases, eyelid position or excessive skin can obstruct vision or cause discomfort. If these issues persist or worsen over time, a repeat blepharoplasty may be performed to restore proper functionality and eyesight.
Although it's unlikely for people to require revisionary or secondary eyelid surgery, some patients do require a second procedure. Don't let this discourage you. Blepharoplasty is well-established as one of the longest-lasting surgical rejuvenation techniques and the positives greatly outweigh any possible negatives. Learning the ways how to preserve your youthful outcome can also play a key role in preventing having to undergo a repeat blepharoplasty.
Featured Blepharoplasty Before & After Photos

Picture Your Transformation

Keep in mind that each patient is unique and your results may vary.

Before & After
Lower Blepharoplasty
This patient presented to us seeking to help address the noticeable bags and wrinkles she has developed under the eyes. She felt these aging changes made her appear tired and older than she actually was. She wanted to look more youthful and revitalized.A lower blepharoplasty (eyelid surgery) was performed on this patient in our NYC off... Read More
Extending The Benefits Of Eyelid Surgery
If you're considering having blepharoplasty or if you've had the procedure already, you will certainly want to know how you can maintain and extend your results as long as possible. There are a few practical, everyday steps you can take to help care for the delicate eye area. However, it is also common for people to have "touch-up" or complimentary cosmetic procedures and treatments that help enhance the benefits of eyelid surgery. Below, we take a more detailed look at some of the most effective techniques:
Protect your eyes from the sun: It's no secret by now, sun exposure can accelerate skin aging and affect the appearance of your eyelids. Wear sunglasses with UV protection and consider using sunscreen specifically designed for the delicate eye area when you're outside.
Practice good skincare: Use gentle cleansers and moisturizers around the eye area and avoid harsh products or excessive rubbing that can irritate or damage the skin. Also, consider using eye creams or serums containing ingredients like retinol, peptides, or hyaluronic acid, which can help improve the appearance of the skin around the eyes.
Skin resurfacing: This laser-based procedure is a great complement to eyelid surgery because it smooths out fine lines, creates more even skin tone and texture, and improves the skin's integrity. This treatment can help stimulate the production of collagen and, in some cases, ablates the outermost layers of the skin. Laser-based treatments can be customized to precisely fit a patient's specific needs.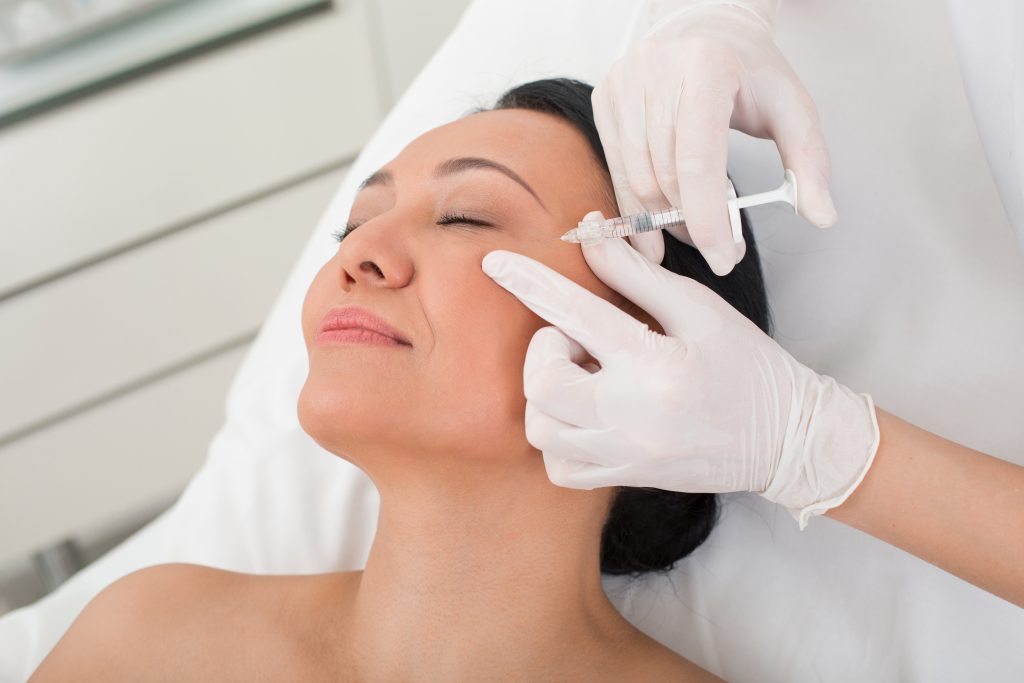 BOTOX® Cosmetic: This popular, injectable neurotoxin uses an active ingredient that reduces muscle activity in the locations where it's administered. Reduced muscle movements result in fewer lines and wrinkles, such as crow's feet. Continued use of BOTOX can actually create long-term smoothness of the skin and prolong the benefits of eyelid surgery.
Dermal fillers: When strategically applied, dermal fillers can add volume to the temples and hollow areas beneath the eyes. Fillers can enhance the results of a blepharoplasty by plumping away wrinkles and creating a fuller and more youthful appearance.
For additional helpful information about this procedure, you can read more in our related blog posts.
If you're interested in blepharoplasty or other facial rejuvenation procedures with Dr. Konstantin Vasyukevich, New York's top facial plastic surgeon and facelift expert, please call or contact us to schedule your appointment. We are always here for your beauty needs!