Will my facelift results last forever?
Congratulations! You did it—you've had your facelift. After having your procedure by a skilled facial plastic surgeon, you're turning heads and feeling fabulous. You're 60-years-old and don't look a day over forty-five. But how long will this last? How long until the 15-years-younger melts to 10, five, or zero? When will your facelift "wear off," and when it does, what should you do?
Facelifts from Dr. Konstantin or another board-certified facial plastic surgeon in New York City can deliver long-lasting, natural-looking results. Unfortunately, these effects are not permanent. On average, a facelift can be expected to last at least 10 years before signs of physical aging may begin to show again. But does this mean you have to have another facelift in order to combat reappearing imperfections? Dr. Konstantin, considered by many to be the best facelift surgeon in NYC, lays out your options for you.
Do I need another facelift?
After approximately 10 years of enjoying a facelift's rejuvenating effects, one may seek to have another procedure performed. An appropriate candidate for a secondary facelift may be one who is noticing new and unwanted signs of aging, such as jowls, that can be fixed by a facelift. However, there are ways to maintain your facelift, rather than having an entirely new one, that may be preferable for patients who do not wish to have another surgery.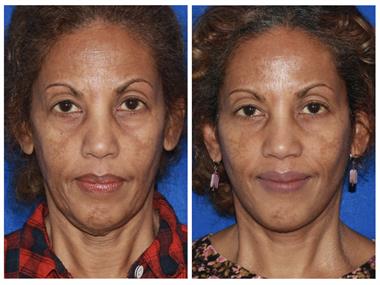 Before and after photos of one of Dr. Konstantin's facelift patients.
Maintaining your facelift
Although a secondary facelift can certainly reset the clock, there are simple steps that you can take to prevent the new aging changes rather than turning to another surgery. To keep your face in its best shape for years to come, Dr. Konstantin recommends dermal fillers, BOTOX, and skin resurfacing. These are trusted methods of enhancing the youthful appearance achieved by your facelift.
While non-invasive treatments are effective ways to maintain the results of your facelift, there are many other easy, everyday ways to ensure your face and your overall health stay in top shape. Keeping a healthy diet, drinking alcohol in moderation, staying at a healthy weight, limiting exposure to the sun, keeping steady hydration, and getting enough sleep will all help you to look and feel your best.
For more advice, tips, photos, and more from New York City's favorite facelift expert, Dr. Konstantin, visit him on Instagram or YouTube. Want to make a consultation for your own rejuvenation? Contact our Manhattan office, where we will be happy to help you.